Aging
Kansas State University offers many programs, many in partnership with other organizations, to enrich the lives of older Kansans, adults with disabilities, and their families by addressing health and wellness needs through research-based education. Engaged, secure, and healthy individuals benefit families and communities.
Agent Jessica Kootz is certified through the State Health Insurance Assistance Programs (SHIPs) to provide free, in-depth, one-on-one insurance counseling and assistance to Medicare beneficiaries, their families, friends, and caregivers. If you need assistance understanding Medicare benefits or enrolling in Medicare, call our offices to schedule an appointment.
Do you worry about the medical care you would receive if you became ill and were unable to speak for yourself? By stating your health care preferences in writing before a health crisis occurs, you can ensure that you will receive the type or degree of care that you want. Advance Health Care Planning in Kansas introduces the process and documents involved in preparing for your future medical care, should you become unable to speak for yourself.
Alzheimer's disease is commonly referred to as the "biggest health crisis facing the world today", partly because everyone with a brain is ultimately at risk. Alzheimer's 101 introduces Alzheimer's disease, its warning signs, the benefits of early detection and diagnosis, and steps to bettering your own brain health.
No one is immune to elder abuse — it can happen to anyone, at any time, and anywhere. Often a silent problem, elder abuse can rob older adults of their dignity and security and leave them feeling fearful, depressed, and alone. Elder Abuse and Neglect: What You Should Know will guide you through the types, warning signs, risks, and prevention of elder abuse and the reporting laws in Kansas.
Gray for a Day aims to educate participants on age-related sensory and functional challenges some adults might face through various simulations that reflect daily routines, simple tasks, and leisure or social activities.
Keys to Embracing Aging is an interactive program that highlights 12 keys aimed at helping you to grow old gracefully, successfully, and with increased longevity.
Tips for Managing Life After Retirement introduces four key themes that have emerged from research on living a successful, healthy retirement: foundational relationships, healthy living, achieving balance, and planning for the future.
As of 2018, 116 Americans die every day from an opioid overdose, and Kansas is not immune to the crisis. Drug abuse, dependence, and overdose affect nearly every community nationwide. K-State Research and Extension's educational materials explain what opioids are, the risks associated with them, signs of addiction and overdose, safe storage and disposal, steps to take to address the crisis, and more.
Powerful Tools for Caregivers
This is a nationally-based program that provides individuals with tips, tools, and strategies to handle the challenges and opportunities associated with caregiving.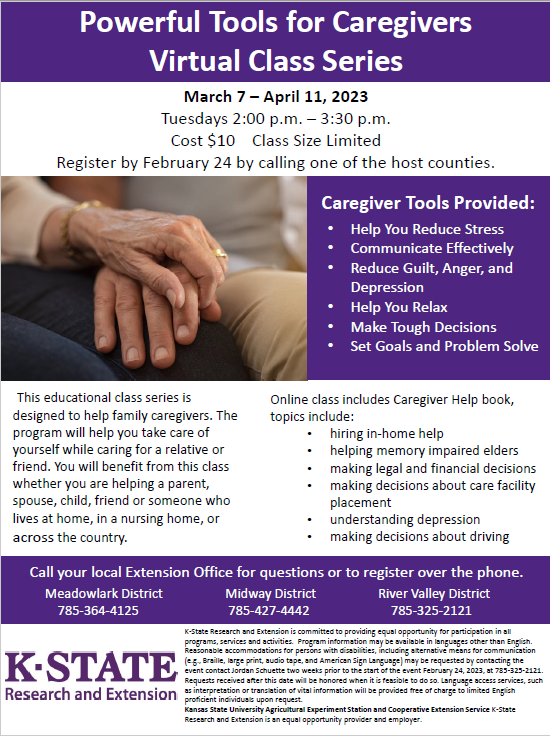 Participants will learn methods to age in place, assess and modify homes for safety, independence and economy for older or disabled people, and reduce the need for assisted living facilities and nursing homes.